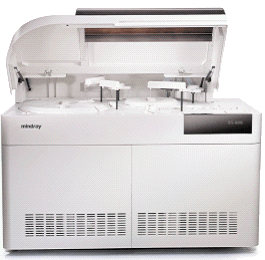 AUTOMATIC BIOLOGY TESTING MACHINE
MODEL: BS800M
MANUFACTURER: MIDRAY
Comprehensive solution for laboratory testing
 I. GENERAL CHARACTERISTICS
Cost effective
High probability of testing:

Sample tray: 140 positions
Optional: Sample transport module: 300 sample positions
68 tests simultaneously on the machine
165 cuvette positions react

Low chemical consumption

Low consumption of chemicals 100 µL, reducing chemical costs. Design separate chemical bottles, minimize the amount of residual chemicals

Perform urgent sample testing

With just 1 key STAT. The emergency sample tray and the dedicated rail easily carry out emergency samples

Load and take out chemicals / samples continuously

The chemical tray rotation button allows you to load and remove chemicals continuously during the test

Electrolyte module

Small sample consumption, high testability, low electrode cost, one set of electrodes can do 60,000 tests (20,000 tests / electrode)
High precision:
High precision needle system:

Chemical: 15 ~ 300 µL, adjustable 0.5µL step by step,
Model: 1.5 ~ 35µL, 0.1µL stepwise adjustable

The chemical is automatically cooled by the process of water circulation

The chemical tray is automatically cooled at a stable temperature from 2-8ºC

Direct annealing system

The reaction tray is automatically heated directly, ensuring the incubation temperature increases quickly, is always stable at 37ºC, fluctuates 0.1ºC
Guaranteed safety
Impact protection: Protection against horizontal and vertical impacts for chemical and sample needles
Non-absorbent design: All electrical covers and special channels are designed not to absorb water
Efficient sample mixing unit: Separate sample and chemical mixing needle. The 3-head mixing bar helps to perform sample and chemical mixing effectively. The 2-stage washing cycle minimizes cross contamination
Intelligent clot detection: can detect fully clogged, semi-occlusive and bubble patterns, ensuring accurate sample suction
Maintenance Guide: Easy to perform maintenance and maintenance procedures. Detailed instructions are attached to the software, ensuring immediate problem handling
Sample tray lid system: All lids are closed during the test. In particular, the sample tray can be half open when needed, easy to load and sample continuously while the machine is running
Alert log: A list of specialized alerts that list detailed information for technicians and engineers to maintain the system.
New technology
Coaxial chemical tray: 2 coaxial chemical trays create convenience for technicians when changing chemicals, semi-open lid design makes it safer for users, easy to load and change chemicals continuously .
Detecting chemical bubbles, detecting the actual liquid level before absorbing chemicals
Spot light source: Double diaphragm and light-double technology ensures that the light focuses on a single point. This technology produces highly focused light, resulting in low reaction dissipation
Water quality monitoring: Analyze and monitor the quality of ionized water through the principle of resistance, reducing infection
Ability of extension
BS-800:                                                                      
Capacity: 800/1200 test / hour
Sample location: 140
Chemical location: 68
BS-800M1:
Capacity: 800/1200 test / hour
Sample location: 440
Chemical location: 68
BS-800M2:                                                                
Capacity: 1600/2400 test / hour
Sample location: 580
Chemical location: 136
BS-800M3
Capacity: 2400/3600 test / hour
Sample location: 720
Chemical location 204
BS-800 M4
Capacity: 3200/4800 test / hour
Sample location: 860
Chemical location: 272
II. Technical configuration
1.System function:
Full automatic, random access, routine testing, urgent sample and immunological test.
Capacity: 800 tests / hour (biochemistry)
1,200 tests / hour (electrolyte)
Analytical principle: optical absorbance measurement, color comparison
Analytical methods: Endpoint, fixed time, kinetics, electrolyte selection, one, two, three, four chemical, biochemistry, monochromatic, colorimetric
Settings: User defined
Sample treatment:
Sample tray: 140 positions including 25 automatic cooling positions for standard and control position
Automatic sample transfer tray: 300 samples with 30 sample transfer rails
Sample consumption: 1.5 ~ 35μL, 0.1µL step by step
Sample nozzle: automatic liquid level detection, clump detection and collision protection
Automatically wash the needle tip: automatically wash both inside and outside the needle tip, infection rate ≤0.1%
Automatic sample dilution: can dilute before and after, dilution rate 150
Dilute in cuvette
Chemical treatment:
Chemical tray: 120 positions are automatically cooled (2-8 ° C) with coaxial chemical tray
Chemical consumption: R1: 15 ~ 350μL, step by step 0.5μL,
R2: 20-200 μL, step by step 1 μL
Chemical suction needle: Automatically detect liquid level and protect collision, control chemical residue
Automatically wash the suction needle: Automatically wash both inside and out, cross infection rate: ≤0.1%
External barcode reader:
Used for chemical and sample reading programming,
Applications for different barcode systems: Codabar, ITF, code 128, 39, UPC / EAN, code 93,
Ability to connect to the labo information system, a 2-way interface
Reaction system:

Reaction quantity: 100-360µL
Reaction temperature: 37ºC, fluctuating 0.1ºC
Optical system:
Light source: halogen lamp
Death wavelength
Wavelength: 340nm, 380nm, 412nm, 450nm, 505nm, 546nm, 570nm, 605nm, 660nm, 700nm, 740nm, 800nm
Absorption range: 0 ~ 3Abs (10mm conversion)
Absorption: 0.001 Abs
Inspection substances and standards
Calibration type: linear (single point, 2 point and multiple points), logit-log 4P, 5P, ... ..
Calibration Principle: Westgard, double score, ..
Electrolyte module (optional extra)
Selection of electrolyte parameters K+, Na+, Cl–
Model: 22 µL
Computer:
Minimum configuration WINDOW 2000 Pro or Window XP
Interface port: RS-232
III. OTHER REQUIREMENTS
Maintenance and maintenance modes are performed by a team of specialized technicians who have been trained in genuine implementation. Engineers have attached training certificates.
Proficient training of users, maintenance and repair team in Hanoi.
Warranty period: 18 months from the date of receipt.
Commit to supply consumable materials, spare parts for a period of at least 10 years. Get signed maintenance contract after the warranty period.
Make sure to have chemicals and spare parts available to the Hospital when needed.
Provide adequate documentation for use, maintenance and repair.
The technician training to use the machine proficient and maintain the machine when the facility requires it.
Place of delivery: In place of use
Delivery time: 02-04 weeks from the date of receiving the first payment
 Distributor: VIET BA EQUIPMENT CO., LTD