SYSTEM OF MULTI-COMBINED CT-SCANNER TOSHIBA ALEXION
MAXIMUM PERFORMANCE - MINIMUM SPACE
Everyone deserves access to and benefits of the high-performance cutting multi-layer tomography system.
Since the mid-1990s, Toshiba Medical Equipment Corporation has been working on developing multi-slice tomography systems with innovative functions to increase patient examination opportunities and possibilities. Every year, the group releases tailored technologies to increase the benefits of CT scanners to ensure users feel easy to use the system and, more importantly, to reduce the dose of the beam. for patients. Today, the CT scanner serves as a means of analysis to give the initial diagnostic images in the health care of patients. Therefore, the company focuses on pursuing advanced technology to introduce and develop high-end systems.
To meet the needs of the majority of customers, Toshiba has launched the Alexion CT SystemTM new - high-performance multi-slice tomography system with compact design and affordable price.
Alexion uses state-of-the-art technologies designed to help clients manage their finances efficiently while still capturing high-quality images. Alexion benefits both patients and clinics. Alexion is a new multi-slice CT system that we have launched to serve medical facilities with large numbers of patients and want to use advanced 3D applications and post-processing applications as well. like applying the latest in dose reduction technology. At the same time we also wanted to introduce innovative technology integrated into a compact system, the Alexion was the first machine to feature a user-oriented mode, so novice users also. can use the system.
The CT Alexion system offers outstanding performance, and excellent quality at low beam doses
Maximum performance, minimal space
 Alexion incorporates the most advanced beam dose reduction technology to reduce the projected dose while maintaining high quality images. It is easy to install and offers outstanding cost performance.
Next generation dose reduction technology
AIDR 3D
SUREExposureTM 3D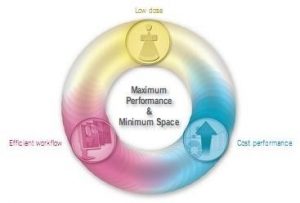 Easy to operate
Mode Navigation is used to streamline work
Powerful 3D / MPR
Fast and precise automatic bone removal
Easy to install and great cost performance
The area is only 4m2
Reduce time and cost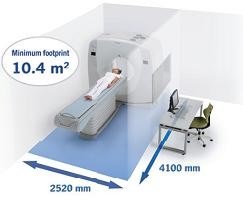 Simple but delicate
Mode Navigation - Easy and fast
Alexion uses a unique operating mode, a unique mode that guides users through exploration through graphics and computer animations. The intelligent movie-processing function automatically collects images according to predefined layouts for fast, efficient work.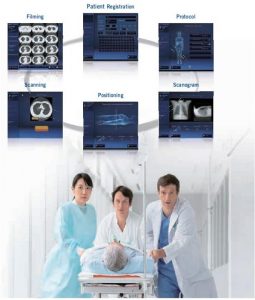 Easy-to-use 3D software
With Alexion's user-friendly 3D photo software, the machine can create high-quality 3D images very easily. Just select the desired protocol on the screen and you're done.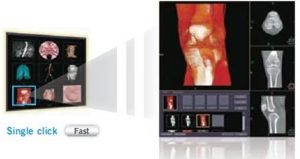 Automatic bone removal
Alexion integrates fast and precise segmented automatic bone removal algorithm when wanting to explore tomography angiography. In just a few seconds, we can obtain high-quality diagnostic angiography.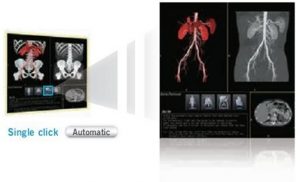 Optimize clinical performance
Alexion is designed with the most modern software and hardware and the most advanced regeneration technology available to accommodate patients who are being examined continuously.
Choose a protocol
After patient registration, the system will automatically download the correct protocol selection for adults and children based on the patient's age. Additionally, protocols are automatically grouped by anatomic regions with an intuitive graphical interface to ensure easy and precise protocol selection.
Check the dose of the beam
The dose monitoring software helps to ensure that the user defined radiation dose limits do not exceed allowable levels due to incorrect operation of the system.
Software sureExposure 3D
sureExposure 3D is the user-friendly solution for the application of automatic capture controls that can be programmed into each preset of the visitation plan.
Software sureExposure 3D is based on image quality and automatic attenuation measurements are obtained from the patient scanogram. The shading line (mA) is automatically adjusted to the X, Y, and Z planes to maintain an adequate image quality.
Real-time visuals
Real-time imaging is a very important tool that enables instant viewing of a spiral scan in real time. Toshiba's real-time imaging allows users to monitor the contrast impregnation processes and real-time imaging ensures a full view of the scan area without waiting for image reproduction like conventional scanning.

Regenerative
AIRD 3D (Reduce 3D beam dose)
AIDR 3D can be used for all acquisition modes for everyday examinations and can reduce the interference 50%, resulting in a reduction of the beam dose to 75%.
Fast regeneration
The new advanced image reconstruction system supports an image reproduction rate of approximately 15 images per second to ensure fast diagnosis and increase patient productivity.
Beam dose report
According to IHE regulations, X-ray dose monitoring files are available in the system software. This function automatically records all scan data so that the total dose can be accurately monitored for a specific patient or study.
Minimize the dose
Reducing the dose of x-rays for patients is one of the top priorities of Toshiba Medical Equipment Group. That is why CT Alexion systems incorporate the most modern projection dose reduction technologies in standard configurations.
AIRD 3D (3D compatible repeat projection dose reduction)
AIDR 3D is a sophisticated algorithm designed to work in reconstructing images and raw data. AIDR 3D processing greatly reduces image noise, which is essential for ultra-low dose examinations in everyday clinical images. This iterative algorithm is a good way to preserve diagnostic information.
Software sureExposure 3D
sureExposure 3D is the user-friendly solution for the application of automatic capture controls that can be programmed into each preset of the visitation plan.
Software sureExposure 3D is based on image quality and automatic attenuation measurements are obtained from the patient scanogram. The shading line (mA) is automatically adjusted to the X, Y, and Z planes to maintain an adequate image quality. Results, software sureExposure 3D can reduce the projection dose to 40% depending on the patient and the surgical scan area.
AIDR 3D + SUREExposure 3D
Integrated dose reduction is essential for optimal dose management. Therefore AIDR 3D has been fully integrated with SUREExposure 3D. SUREExposure 3D is a powerful dose reduction tool that adjusts the dose for each patient based on a preset target level of image quality. When it is combined with AIDR 3D, the X-ray projection automatically decreases before shooting to maintain pre-programmed image quality adjusted to the desired image noise reduction.
Reduced dose 75% when using combination AIDR 3D + SUREExposure 3D
You can see the following images when shooting: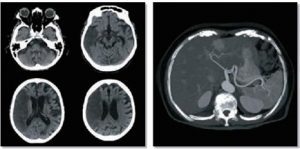 | | |
| --- | --- |
|     Large infarction areas involving the right temporal and parietal lobe are indicated on axial images |     MIP images showing arteries show tumors arising from the celiac axis |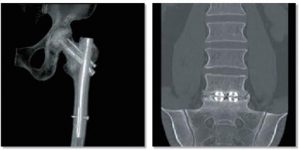 | | |
| --- | --- |
| Metal positioning devices can be seen in the left femur |    Check the position and condition of the bone-connecting material |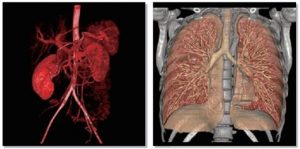 | | |
| --- | --- |
| The abdominal aorta and arteries are reconstructed using the 3D console | Lungs with bones are reconstructed using a 3D console |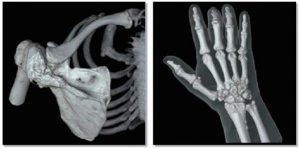 | | |
| --- | --- |
|       The fracture of the left shoulder blade is reproduced using a 3D console |     The hand fracture had to be reconstructed using a 3D console |
Advanced visualization
Alexion supports a variety of innovative applications that are only available for high-end CT scanners.
Lung air flow analysis (optional)
Quantification of areas of pulmonary parenchymal gas exchange impairment (emphysema in the lungs)
Colon observation (optional)
Advanced visualization and reporting tools on virtual colonoscopy display including: view of colon folds, masses, polyps.
Fat index (optional)
Automatically calculates the visceral to fat ratio and this is an indicator to help diagnose metabolic disorders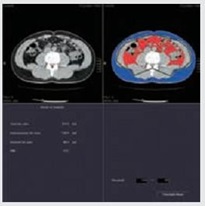 SURE SUBTRACTIONTM
Automatically clears the background to observe the cerebrovascular system from the bone
SURE FLUOROTM (Choose more)
Real-time reconstruction and rendering of the CT projected images for safer and faster intervention.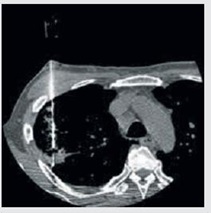 Observe blood vessels (optional)
Capture and display CPR and cross-sectional images of blood vessels.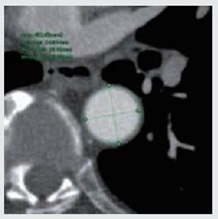 CBP cerebral perfusion study (optional)
The characteristics of the blood stream are analyzed from the dynamic scans and the results are displayed as atlas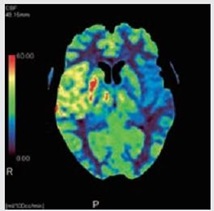 Dental Software (optional)
Dental MPR software with easy-to-use tools to pre-plan facial jaw surgery.
Easy installation
Alexion machine systems are easy to use and install. Machine installation time and requirements are reduced to minimize machine downtime.
Small installation space
Alexion multi-slice CT machines can be easily installed anywhere, even in the same space as single-slice systems. Delivering great performance in a compact, lightweight system, Alexion is designed to be installed in as little as 10.4m2.
Operated by one console
With a compact console, the Alexion system can support the speed and capability required for all everyday CT applications. Alexion console is equipped with state-of-the-art computing technology, including multi-core CPUs, to ensure fast reproduction, simple handling of large volumes of data.
Quick installation
With Alexion's simple location requirements, customers can install and test them for no more than 3 days
Environmental friendliness
Tohsiba is committed to developing and manufacturing environmentally friendly products
Overall optimization of the energy consumption of the system components reduces the electrical requirements of the entire system. Utilizing energy-saving techniques such as automatic gantry fan control, standby energy consumption is reduced by 40% compared to conventional machines.
Economic efficiency
AIDR 3D enables low dose projection, excellent image quality, and great cost performance. How it can increase the number of patients seen
With the AIDR 3D noise reduction software, the cooling time is eliminated, so more patients can be examined.
There is no 3D AIDR

Need to cool
AIDR 3D is available
No cooling. Scan continuously

History of technology development
Over the past 130 years, Toshiba has become the world's leading manufacturer in the development of technologies to improve quality of life. Our 50,000 patents are a clear demonstration of our technological advancement. We always give you a surprise about the inventions we invent.
1915: Japan's first X-ray ball is born
1954: The first digital computer system is born
1977: The first cardiovascular ultrasound system was born
1985: The first circular CT system was born
1986: The first personal laptop computer is born
1990: The first spiral CT system is born
1993: The first real-time projection CT system was born
1999: The first (noiseless) magnetic resonance system was born
1999: The first 0.5mm multi-array CT system was born
2002: The first 400ms CT system is born
2004: First noise cancellation software was released
2007: The first volumetric scanning CT system was born
2009: The first 160-row spiral CT machine was born
2010: The first advanced technical 320 series CT machine was born
2011: CT system using adaptive 3D repeat dose reduction technology (AIDR 3D)