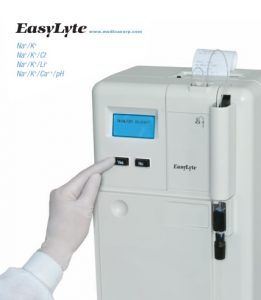 Device name:                                       Automatic electrolyte analyzer
English name: Electrolyte Analyzer
Model:                                               EasyLyte
Manufacturer:                                 Medica - USA
Equipment function:
EasyLyte has 4 types of models has the following functions:
EasyLyte Na+/ K+
EasyLyte Plus Na+/ K+/ Cl–
EasyLyte Lithium: Na+/ K+/ Li–
EasyLyte Calcium Na+/ K+/Shift++/ pH.
General features: 
Easy to use 
Simple operation with 2 keys YES / NO
Variety of blood samples: whole blood, plasma or urine sample.
Test speed is fast, within 60 seconds of results.
Standard automatic or standard on request
Automatically wash the suction needle
High precision
The machine automatically detects anemia or foamy blood and takes care of itself.
Flexible, adjustable standard control processor with other methods.
Easy to maintain
All standards are contained in a convenient, disposable solution box.
All waste is also contained in a solution box.
Electrode READY SENSOR is MEDICA's patented technology, no need to change electrode membrane, and stable electrode during electrode working process.
Modular design makes operation simpler and faster.
Easy to equip
Reasonable price of machine
Low test cost
Outstanding feature and specification of the device
The amount of blood tested:
100 µl in the common type for whole blood, serum, plasma.
60 µl in a capillary tube
400µl diluted blood (1:10)
Measurement methods: Direct measurement with selective electrode (ISE)
Measuring ranges and limits
 Whole health Display limit
Na+      20 - 200 mmol / l 0.1mmol / l
K+        0.2- 40 mmol / l 0.01mmol / l
Cl–        25 - 200 mmol / l 0.1 mmol / l
Li + 0.2-5.0 mmol / L 0.01mmol / l
Ca ++ 0.1-6.0 mmol / L 0.01 mmol / l
pH: 6.0-8.0 units 0.005 units
Urine                              
Na+      25- 1000 mmol / l
K+        1.0 - 500 mmol / l
Cl–       25- 500 mmol / l
Characteristics: Na+/ K+            Na+/ K+/ Cl–      Na+/ K+/ Li+       Na+/ K+/Shift++/ pH
Analysis time:                55 seconds 55 seconds 55 seconds 60 seconds
                                                For whole blood
Urine mode: Yes Yes Yes Yes Yes
Analysis time: 90 seconds 90 seconds 90 seconds not available
Automatic sample converter: Yes Yes Yes No No
Capillary Blood: Yes Yes Yes No No
Ambient temperature: 15-32OC
Output signal: RS-232 computer connection port
Power usage: 100 - 240 V 50/60 Hz
Dimensions and mass: Width x Height x Depth = 240 x 420 x 200 mm
Weight 7.3 kg (Including reagent module)