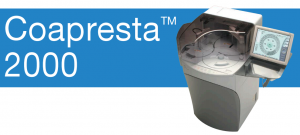 COAPRESTA 2000 AUTOMATIC COOLING
Manufacturer: Sekisui - Japan
I. General introduction:
Coapresta 2000 is a fully automatic coagulation analyzer with 3 types of assays: coagulation time test (using light scattering method), chromogenic and latex turbidimetry. The execution speed is up to 400 tests / hour (for coagulation time tests) and can carry out 20 samples continuously randomly. The color screen allows viewing of performance results, information about equipment, amount of chemicals remaining and the progress of tests being performed.
To meet customers' demands for a "more friendly coagulation device", Coapresta 2000 has improved and offered useful functions such as easy access to and management of various information via code. quick response (quick response), automatically adjust the standard curve. Coapresta 2000 is incredibly simple to operate, and can be used by anyone.
Touch screen display for easy operation control
15 inch color touch screen for easy operation control.
Detailed information on samples and chemicals is coded with the selected location indicating the actual processing time.
Device reading code code manually
Manual code reader helps to reduce errors in the information reading process.
Trusted data !!
Screens that display QC data are linked to screens that represent other relevant information.
Different data storage units such as: standard equipment run, number of logs, change of lot and chemicals are displayed on the QC screen. This data information is linked with the detailed information display that makes it easy to find the cause of the error.
Pipette operations.
Pre-heated cuvette and chemical detectors help samples and chemicals heat up instantly. This helps to increase the reliability of the data. Sample probes are capable of sampling from about 2µl for absolute accuracy compared to traditional biochemical automated analyzers.
High capacity operating process !!
Coapresta 2000 provides high-speed performance up to 400 tests / hour on coagulation and chromogenic tests and latex turbidity.
The INR standard curve is automatically calibrated in the traditional calib pattern.
For sample checking function, Coapresta 2000 has a dilution function at multiple points and check between test sites selected test automatically takes results. Coapresta 2000 can update user request.
Easy data entry via QR code (Quick response code)
Information including lot number, expiration date, international sensitivity index (ISI) can be entered easily, just touch where you need to have chemicals and QR codes. Standard run (calib) installation and control can do the same thing as using a keyboard. This helps to reduce input errors.
Increase the controls
Coapresta 2000 can store chemical change dates and temporary chemical information stored in the refrigerator or similar. This is convenient for chemical management and avoids errors when changing.
Reaction profile
Reaction profiles are displayed and printed on a scale. This function helps to check data errors.
Automatic standard curve adjustment function
When the calibration curve for each lot has been previously prepared and recorded, this calibration curve automatically conforms to the chemical lot adjustment. This avoids computation errors because inaccurate standard curves are used for lots.
Chemical refrigeration
The chemical cold storage box is maintained at 10 temperature 0C to increase chemical stability.
Improved management functionality and safety
The data shows details of the machine's operation (including warranty, maintenance, ...) and can be saved for about 2 or 5 years. This function meets ISO 15189 standard
Security level specifies output data limit and setting change. QR codes facilitate activity recording thus connecting easily with the built-in safety control function.
Advanced support functions
Operation, error and maintenance instructions are displayed on the screen. instructions are also detailed on the screen for easy understanding.
In addition to the maintenance log, the details of the maintenance are also logged using the log function.
With the touchscreen operation and the quick response code (QR code) reading, the efficiency is significantly increased. The calibrator assigns the value and the number of lots entered via QR code, which helps to reduce human error.
Recorded machine performance data such as chemical change, calib implementation date, equipment maintenance through quality management (QC) data
High capacity operating process !!
The capacity of up to 400 tests / hour (coagulation time test) is a significant achievement. Sample probe capable of sampling capacity from 2 µl for accurate measurement results. Using two STAT measuring systems, STAT port for emergency samples and STAT rack for priority samples allows running emergency samples and other models will be stopped at any time.
2. Technical configuration:
Measure samples continuously: Up to 20 patterns
Routine tests: 60 samples
Clotting time tests: PT, APTT, Fib, T, H, Factor
Chromogenic tests: AT III, PLG, APL, PC
Latex turbidimetry test: FDP, D-dimer, PIC, SF
Measurement methods: Light scatter measurement method for coagulation time and light absorption assay for chromogenic and latex turbidimetry assay.
Wattage: 400 tests / hour (PT, APTT, Fib, T, H, Factor) and 200 tests / hour (AT III, PLG, APL, PC, FDP, D-dimer, PIC, SF)
Light source: LED (660 nm), halogen lamp (405/570/730)
Consists of 6 racks, each containing 10 samples
Model STAT: 3 ports (used priority)
Standard curve: Automatic dilution setting, INR standard curve, automatic calibration curve adjustment.
Control: graph X, double chart
Operation system: 15 inch touch screen / Windows XP (IBM PC compatible)
Read the code:
QR reader: handheld type
Barcode on model: 16 digits, Code: 39, Code 128, NW 7)
Size: 670 mm X 700 mm X 1190 mm
Weight: 170 kg (main unit only)