OPERATION SOFTWARE AND IMAGE PROCESSING
DIGITAL X-ray (VB-DROC)
Digital Radiography Operation Console
I. GENERAL INTRODUCTION
DROC - Digital Radiography Operation Console software developed by Viet Ba IT Joint Stock Company, is a software used to automatically acquire raw image data from the FPD (Flat Panel Detector) sensor plate, then convert from raw image data to standard format of Dicom images specialized in the medical field.
DROC is developed by a team of programmers experienced in medical image processing with the most powerful programming techniques and image processing tools out there. It can be said that this is the first software to capture images directly from sensor panels in Vietnam and is developed with a team of Vietnamese people, so the software's features are rich, diverse, responsive. are all the most demanding of doctors in the Hospitals. The advent of DROC has created an important premise for the manufacture of digital radiographs in Vietnam.
The most important function of the DROC is the ability to obtain raw data from flat panel sensors after the X-ray machine emits, based on the application protocol of each sensor plate to form digital X-ray images according to the DICOM standard with complete patient information, date, time, shooting position ...
DROC also has full features of a digital X-ray operating system such as DICOM WORKLIST, DICOM STORE, allowing easy connection with diagnostic imaging systems (PACS / RIS) or information systems. hospital information to transmit patient information and scan orders directly to the X-ray machine without the technician having to re-enter name and order to scan. In addition, with DICOM PRINT feature, DROC allows direct photo printing to dry film printers (DICOM printers) as well as specialized laser printers to save costs.
DROC is built and developed by Vietnamese. Therefore, the system also allows viewing of DICOM images on the basis of a completely Vietnamese interface, with detailed instructions for user convenience. DROC also supports multiple languages, users can choose to use Vietnamese, English ...
II. DETAILED CHARACTERISTICS
The following figure describes the principle of the XQ Digitalization Solution: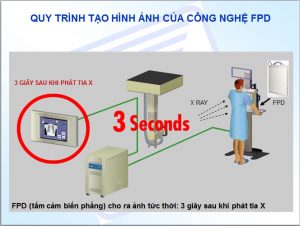 Principle of the digital X-ray solution: X-ray => Flatbed sensor => DROC software => DICOM standard digital X-ray image
Inside:
Flatbed sensors convert the energy of the X-beam into a collection of electrical signals
DROC software plays the role of operator and receiver of the set of electrical signals from the sensor to construct digital X-ray images according to DICOM standard (data transmission standard in Health).
DROC software can be applied to many different sensor plate suppliers
The software allows 2 sensor plates to be controlled simultaneously.
Can use Touch Screen mode simply (Touch Screen)
Images are viewed and manipulated as desired before being transferred to management support systems such as HIS, PACS, RIS and other peripherals
The DROC system includes the following main functions:
1.      The function of recording patient information:
Documentation of basic administrative information of patients registered for the service.
Register shooting positions for the patient
Support to look up and find patient information
Update batch information from file in EXCEL format. This utility is very useful for performing X-rays in health examination implementation in medical facilities
2.      Data acquisition function from flat panel sensor and Dicom image rendering:
The most important function of the DROC is the ability to gather electrical signals from the sensor to create digital X-ray images according to DICOM standards based on the Application Protocol Interface of each type of sensor plate.
The captured images are then fully integrated with patient information, date, time, and posture ...
The system allows simultaneous management and image acquisition of 02 different flat panel sensors
3.      Dicom image processing function (DicomViewer)
The image processing part consists of 02 main parts, pre-processing and image processing after it has been displayed to doctors and technicians.
The preprocessing section is the image processing part after constructing the image from the received sensor's electrical signals.

Image data obtained in this step is raw data that must be performed through a series of processing functions such as noise filtering, edge processing, contrast processing, grid processing, ... 'Acceptable' for doctors, technicians
This processing is completely hidden to the user. Currently the processing speed for each shot is about 10-12 seconds, equivalent to the processing speed of the best systems in the world.

Image processing tools interface: Includes tools to assist doctors and technicians in processing images.

The interface is entirely in Vietnamese so it is easy to understand and use for users. The toolkit is built on the technology of leading Dicom companies in the world.
Effects: Zoom image; adjust brightness, contrast; Magnifier, stack, offset ...
Processing operations: Rotate, flip, reverse image
Zoning on image: square, circle, ellipse, free-shape, magicwand, ...
Insert symbols on the image: Left (L), Right (R), Up (U), ...
Anotation feature: allows doctors to add and edit annotations on images
Collage: Allows multiple photos of the same patient to be stitched together to print on one film, thereby saving the cost of printing film and facilitating the doctor's diagnosis.
4.      DICOM worklist function:
With this feature the DROC allows easy connection to diagnostic imaging systems (RIS) or hospital information systems (HIS) for the transfer of patient information and imaging orders directly into the X Optical, thereby helping to minimize technician's equipment operating time, ensuring a smooth working process throughout the hospital.
5.      DICOM Store function:
This feature allows the DROC system to connect to Picture Archiving And Communication System (PACS) (Picture Archiving And Communication System) systems to transfer DICOM images to a dedicated storage and management system.
Currently the DROC system allows configuring at the same time to store two different PACS systems
6.      DICOM print function:
The DICOM Print feature allows the system to print directly to dry film printers (DICOM printers), and DROC also allows printing of specialized printing paper in the absence of using a DICOM printer, thereby allowing the system to print. help to save costs. In addition, the system also has a feature that allows recording the content of DICOM image information as well as the patient's diagnostic results to CD / DVD.
7.      GCOM communication function:
The DROC system not only allows to receive data from the flat panel sensor, but also has the ability to integrate with the beam controller via GCOM (Generator Communication) to directly control the beam on the interface. software interface. Currently most X-ray machines on the market have to perform this operation by external console, so with DROC software, parameters mAs, KVp, ... will be selected on the software interface and Direct output to a high frequency transmitter. This not only helps the system to be more compact and faster, but also helps the technician not to have to memorize many shooting parameters on the console as the system supports recording. get back the parameters for each shooting position
III. APPLICATION EXECUTION MODEL
IV. PROFESSIONAL CROSS CHART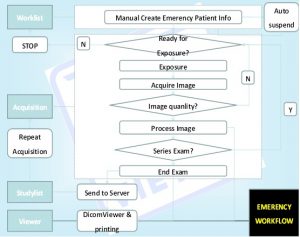 V. SOME MAIN INTERFACE