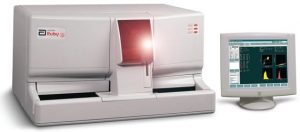 CELL-DYN RUBY
The results are accurate on the first run
Increase laboratory efficiency
More leukemia and leukemia components results are reported at the first run, even when the blood sample has abnormal cells and jamming components are present:
Engineering MAPSSTM Patent Abbott (Multi-Angle Polirized Scatter Separation): for white blood cell results and 5 precise white blood cells thanks to optical lasers
Identify accurately by optical scattering measurements at 4 corners
Application of multiple histogram analysis to identify abnormal blood cells and interfering components
Get platelet results on the first run using optical techniques
CELL-DYN RubyTM Application of 2-angle optical engineering to count and measure platelet size, ensure accurate platelet results at the first run
Reduced pattern iteration due to interference from erythrocytes, erythrocyte or white blood cell fragments, and non-platelet components
Sample running mode with difficult red blood cells
Analysis of erythrocytes and erythrocyte count measured in 3-dimensional optics, erythrocyte and reticulocyte indices
The optical erythrocyte count technique means fewer samples need a smear
The software is flexible and easy to use
The screen can be formatted according to the user
Non-routine modes are easy to execute
Only 3 types of chemicals for whole blood count and 5 leukemia components analyzed
WBC lyse
RBC lyse
Diluent / Sheath
CELL-DYN Ruby: Transformation of advanced engineering
Rich software, convenient touch screen and flexible optimization
Easy to use
The screen is clear, easy to understand and easy to navigate
The software can be formatted according to the user (based on the SQL database)
Displays notification of system problems or can change the time displayed on the screen to optimize the user experience
Automatically quantify remaining chemical condition
User-friendly software that easily performs inquiries, even non-routine requests:
Calibration function
Help function on screen
Help video
Configure security
4 levels of security key by password (password) depending on user role)
Quality control (QC)
Can store up to 500 quality test files
Information display table

Information on white blood cells, red blood cells and platelets on the sample and quality test results is clearly displayed by color. Flag patterns are easy to identify. The operator can select up to 9 different charts with the push of a button.
 

Information for laboratory use only

On the lab screen, it is possible to view the auxiliary parameters for the internal laboratory purposes. These parameters include quantity and percentage of BAND, IG, BLST (Blast), VARL

(Variant Lymp) in leukemia components. Additional hematological parameters such as platelet and platelet distribution width (PDW)
 

Data management

Can store up to 10,000 sample runs and quality control. Data is easy and quickly retrieved thanks to the friendly search menu (menu).
 

CHeck quality

In the QC screen, you can move from the Levey-Jennings graphâ to Data Summaries using the function keys below the left QQID DATA and QQIC LJ Plots.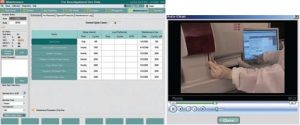 Maintenance
 CHeck quality
In the QC screen, you can move from the Levey-Jennings graphâ to Data Summaries using the function keys below the left QQID DATA and QQIC LJ Plots.
All maintenance information is easily controlled on one screen. The user manual and service instruction video are always on screen.
Abbott's hematology analyzer is at the forefront of efficiency on the first run
Clearly differentiating cell components thanks to MAPSS techniqueTM: Better cell analysis.

Analysis performed on 10,000 cells with only one sample dilution

Acquire information up to 40,000 data points.
Results from MAPSSTM is displayed on many charts in different colors
Distinguish clearly multi-human leukemia, love toan, alkaline, single-human and lymphocytes
Identify and differentiate immature cells and interfering components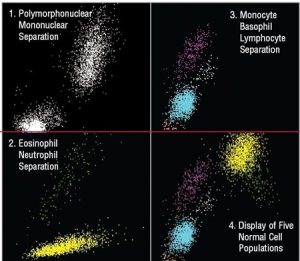 Distinguishing polymorphonuclear leukemia and mononucleosis
Distinguish between neutrophils and eosinophils
Distinguishing monocytes, eosinophils and lymphocytes
Displays 5 normal leukemia components
The MAPSS technique distinguishes and classifies leukemia components

Analysis of red blood cells by 3-angle optics
 
 Improve the accuracy of red blood cell parameters, including reticulocytes by 3-dimensional optical analysis:

Measure each cell at 3 angles to measure 00, 100 and 900
Reticulocytes were analyzed at scattering

optical 00, 100 and 900.

Reticulocytes were determined based on the method of NCCLS
Platelet analysis by 2-angle optics
Platelet results are reported even more than abnormal samples.
Analysis of two angles separate platelets and erythrocytes.
Minimize interference due to small red blood cells, broken red blood cells, red blood cell debris, or non-platelet components.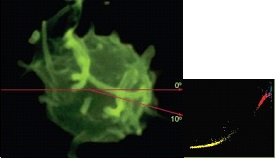 Reported results increased:

No need to rerun or charge extra chemicals
Even when clumped platelets or giant platelets are present thanks to 2-angle analysis
The sample has decreased platelets, and
No further dilution is required when the sample has increased platelets
Specifications
PRODUCTIVITY

Formula blood + leukemia components:

up to 84 tests / hour

SAMPLE VOLUME

Open Mode 150mL, Sample Loader 230mL

CHEMISTRY

4 chemicals including reticulocytes

  

SKILL 

                                                                                               
PLATE & THE INGREDIENT

MAPSSTM: 4 angle optical laser

PLATELET

2-angle optics, no chemicals added, no repetition

 RETICULOCYTE

National Committee for Clinical Laboratory Standards (NCCLS) with New Methylene Blue
Data management
The system works based on Microsoft Windows
Touch screen
Full quality check on the machine
Summary statistics and Levey-Jennings graphs
Transfer medium (including leukemia components)
Westgard Rules
Store 10,000 results with the chart
Program the patient and report
Patient information (name, date of birth, patient code, doctor appointing)
Barcodes: Code 39, Codabar, Code 129, Interleaved 2 of 5, ISBT
Self-calibrate according to the instructions on the machine
Computer diagnostic program and help video
Operating temperature
150C to 300C (590F to 860F)
Humidity
Relative humidity £ 80%
Indoor use
Compliance with safety standards
UL CSA
IEC 1010
CE Mark
Parameter
White blood cells
Red blood cells
Platelet
reticulocyte
NOC WOC NEU

%N LYM %L MONO %M EOS

%E BASO %B

RBC HGB

HCT MCV MCH MCHC

RDW Retic

%R

PLT MPV
RETIC# RETIC%
Electrical Power
| | | | | |
| --- | --- | --- | --- | --- |
| | Telegram | Frequency | Maximum intensity | Maximum power consumption |
| Analyzers | 100-240V | 47 / 63Hz | 0.5-2.2 amps | 550W |
| Screen | 100-240V | 50 / 60Hz | 1.5 amps | 50W |
Size
High
Wide
Deep
Mass
Analyzers
49.9cm (19.25 in.)
86.4 cm (34.0 in.)
76.8 cm (30.25 in.)
105.2 kg (232.0 lbs.)
 

Printer

 

According to the printer manufacturer