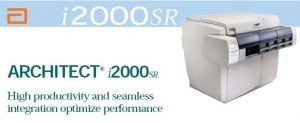 AUTOMATIC Immunology Testing Equipment
Machine name                                  ARCHITECT i2000SR
Manufacturer ABBOTT LABORATORIES (USA)
TECHNICAL FEATURES
Test principle:
Immunoassay techniques Photoluminescent chemistry the most advanced CHEMIFLEX
Test procedure:
Procedure 2-step test with automatic sample pretreatment, avoiding Hook effect
Test speed:
Result type:
Qualitative
Quantitative
Ratio
Auto-dilution and auto-retest
Have sample dilution system and rerun automatically when needed. This procedure is performed using the test machine software, if the result exceeds the linear limit of the assay
Varied sample tube
The sample tray accepts any sample tube with no need for declaration or needle adjustment
Sample type
Specimens are serum, plasma or other body fluids depending on the type of test
Sample delivery system by automatic robot RSH (Retest Sample Handler)
Transport of specimens by robotic mechanism from the sample loading compartment to the sampling position and vice versa, allowing immediate sampling at any sample loading position, at any time at will.
Sample feeder
Contains 135 samples (35 priority patterns and 100 samples running)
Reagent type
In the form of a solution, use immediately. A set of pills contains 3 vials of solution
Pack: 100 test / kit, 400 test / kit, 2000 test / kit
Reagent tray
The reagent tray has 25 positions for simultaneously 25 different reagent kits. The reagent boxes are automatically identified by the barcode system. The bottles are differentiated by color coding
The reagent compartment has a refrigeration system
The reagent compartment is cooled for storing reagents in the machine. Reagents can be kept in the machine for up to 30 days without damage
Chemical stability
The reagent cartridges have a very high stability. If used and stored according to the correct instructions, the used cans can be stable until the expiration date indicated on the pack.
Operate
Fully automated, all stages of sample delivery, reagents, incubation, washing, reading and printing of results
The operation is very simple, only need to perform 3 steps:
- Place the test sample and reagent kit in the machine.
- Indicates the types of tests to be performed.
- Press the button "RUN"
Operation type
CONTINUOUS, RANDOM: The ability to load samples continuity and random This is achieved with a sampler and a processor
separate samples, the mechanical part are not interdependent, so that test pieces and consumables can be added or removed at any time without hindering running tests.
EMERGENCY: The machine can be ordered to prioritize running the emergency patterns. The urgent test run time is less than 15 minutes.
Ability to do many different tests simultaneously on a patient sample
Simultaneously perform 25 different types of tests on the same patient sample
There are sensors that recognize patient and chemical sample levels
There are sensors that recognize patient and chemical sample levels
The machine will error if the sample or the chemical does not reach the required level.
Technique of suctioning solution and rinsing the tip of the needle
The robot system carries a probe that sucks chemicals and patients correctly. Suction needle mounted in suspension springs, impact resistant.
The nozzle is coated with a special non-stick material (teflon) and is automatically washed after each suction with a special SmarthWash washing mode, completely eliminating the possibility of cross-contamination.
Interface with operator
17 inch touchscreen LCD screen
Universal keyboard
The tester communicates with the machine via the keyboard or can directly press the finger on the icon on the touch screen.
Microcomputer control system configuration
Software based on Windows NT, icon menu structure There are 2 parallel hard drives for data storage safety.
Built-in modem allows remote troubleshooting
Data storage
Can store, retrieve and print:
000 patient results
000 controls
Local storage system
There are UPS for control and management center to store information and data done in case of sudden power failure
Interface with the server
Bidirectional (ASTM bidirectional) via RS 232 port
User guides, reports and troubleshooting help
Online device manual software
The content of training and coaching has been integrated on the device
Software error reports and troubleshooting instructions (Help)
Standard time is stable
Calibration Curve: up to 30 days
QC quality inspection system
QC test using Levey Jennings graphs up to 35,000 QC points
Calibration curve: You can optionally run the baseline
+ 6 points (with Standard Calibrators)
+ or 2 points (with Master Calibrators)
Controls for quality control: Each type of test has a control to run quality checks.
Identification techniques
Barcode reader identification of samples and reagents
Device connectivity
Capable of connecting with the Architect c8000 biochemical test machine to become an ci8200 biochemistry-immunity system, with a single control program
Colloquial
English, French, German, Italian or Spanish
Machine model
Standing on the floor, there is a wheel system for moving
Size, weight
Length 154.9 cm - Width 124.5 cm - Height 121.9 cm
- Weight 490 Kg
Working environment conditions
. Voltage 200-240V / AC - Frequency 50 / 60Hz
. Maximum power consumption of 2500W
Work room: . Temperature 15-30 ° C. Humidity 10-85%
OTHER ADVANTAGES
Ability to upgrade, update software continuously
The software to run the tests is on the program disks. The discs
This is provided by the company to the customer free of charge with the reagents, so the machine is always able to run newly developed or improved tests.
After sales service
Spare parts: always available in Vietnam
Chemical supply: there are routine types available such as cardiovascular, thyroid, infectious diseases ...
Training: on site until proficient. Advanced training and continuous technical support as required, at no extra cost.
Maintenance facilities & technical force in Vietnam:
+ The engineers and technical specialists of the company are trained by the company in foreign countries
+ ABBOTT has a representative office in Vietnam, always ready to provide timely technical support when needed.