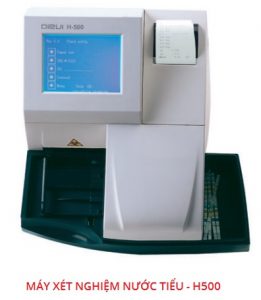 Capacity: 514 tests / hour
Supplier: Dirui / China
The urine analyzer has a high efficiency analysis rate - after only 7 seconds you have the test results
DEVICE FEATURES
- Applying advanced cold light source technology with maximum brightness, 4 wavelengths, enhancing sensitivity, accuracy, characteristics and minimizing noise from ambient light.
- High test speed, 514 tests / hour, 11 test parameters can give results in 7 seconds.
Automatic correction of test results influenced by nonspecific gravity, pH and color specificity.
- LCD screen, wide resolution
- Automatically identify test bars ready for testing, easy operation
Thermal printer is built in with high speed and minimizes noise; can use an external needle printer.
- Ability to connect with barcode readers
- Ability to connect to urine sediment analyzer
- User can manually set abnormal value alarm mode
- Language: English and Chinese selection
- Have waste collection system
SPECIFICATIONS
- Tests performed on machines: Urobilinogen, bilirubin, ketone, blood, protein, nitrite, leukocytes, glucose, specific gravity, pH and VC (or Micro-albumin), Ascobic Acid (Vitamin C)
- Wavelengths: 525nm, 572nm, 610nm, 660nm
- Test principle: Use color measurement technology
- Types of test bars that can be used on the machine: H8, H10, H11, H11- MA
Testing capacity: 514 tests / hour
- Storage: 2000 patient results and 50 QC results
Computer interface: RS-232 port, parallel printer interface
- Display: 6.4 "LCD screen
- Language: English or Chinese
- Power source used: 100-240VAC, 50-60Hz
- Size, weight: 380mm x 378mm x 275mm
7.9 kg
- Printer: Thermal printer built into the machine.
USER MANUAL
The company is responsible for installing, guiding to use until proficient
Free 1 year warranty for manufacturer's fault
Ready to supply chemicals at any time when customers request
Perform maintenance if the customer needs.